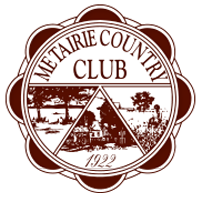 Employment
Metairie Country Club is now accepting applications for enthusiastic and experienced staff members in the following areas:
1st Assistant to Chief Engineer
Housekeeping - PM Shift


Download Application (.PDF) Download Application (.DOC)
METAIRIE COUNTRY CLUB is an equal opportunity employer. Applications will not be used for limiting or excluding any applicant from consideration for employment on a basis prohibited by local, state, or federal law. Applicants requiring reasonable accommodation in the application and/or interview process should notify a representative of the organization.
Employee Benefits for ALL Employees
Parking
Meals
Direct Deposit
Referral Program
Summer Party
Holiday Party
Holiday Bonus
401K w/matching (After twelve months of employment and 1000 hours worked)
Employee Benefits for Full Time Employees (including ALL part time incentives)
30+ hours per week
Health Insurance
Life Insurance
Dental Insurance
Short Term Insurance
Cancer Insurance
Sick Days (After six months of full time employment)
Holiday Pay (After six months of full time employment)
Vacation Days (After one full year of full time employment)
Mail, Email or Fax resume to:
Metairie Country Club
Attn: Joelle Montalbano
580 Woodvine Ave.
Metairie, Louisiana 70005
Email: jmontalbano@metairiecc.org
Fax: 504.293.2694
Summer Jobs with SELA Aquatics
SELA Aquatics is currently hiring lifeguards, swim coaches, and swim instructors for the 2019 summer season. This is a great opportunity for students or others with availability during the summer! The minimum age to work is 15 years old. SELA Aquatics offers lifeguard certification courses, and you can apply/interview before becoming certified.

To apply, visit www.SELAAquatics.com. If you have questions, contact Robyn@selaaquatics.com.